B.N.PUBLIC SCHOOL
Infrastructure & Facilities
Hostel facilities
The school has hostel facilities for boys (Pannadhaya House) & Girls separately from classes Nurs. up to XII. It has:-
Well furnished rooms with all amenities.
Spacious Dining Hall, with a well supervised mess providing a balanced diet, through a well planned menu.
Services of well qualified panel of doctors.
Supervised by a Hostel warden under the overall guidance of the Principal.
The hostel fee includes lodging, messing, electricity, water, laundry and service charges. The fee must be deposited as mentioned in the schedule of school fees.
Note:Parents who desire Hostel accommodation for their wards should fill in an additional form available in the school office and attach the same along with the registration form.
Pre Primary Wing
A unique and totally child centered, fully equipped pre primary wing, with ample space for all indoor and outdoor activities. Emphasis is laid on latest teaching techniques and true pedagogical methods.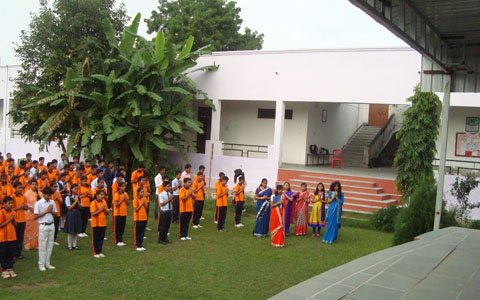 Game & Sports
The campus is renowned for its grounds, which enable the school to provide ample opportunities & facilities for all kinds of games and sports, under the table guidance of trained staff. Special emphasis is laid on physical fitness, through the medium of P. T. & exercise. The presence of B.N. College of Physical Education is an added asset. Swimming pool facility, horse riding, archery, rifle shooting, gymnasium, sports Track, etc. are some of unique features.
Digital Library / Labs / Gymnasium & Swimming Pool